happy november! let's kick this month off the right way with the first annual (?)
s

c

a

r

f

a

m

e

n

t

s

w

a

p

.
you read that right, ladies. scarf-a-ment. that's a scarf and an ornament, for those who are unfamiliar with the term.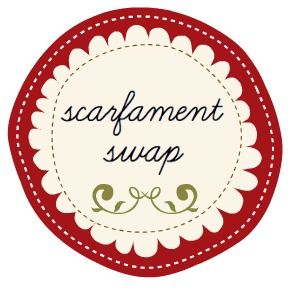 the idea behind the scarfament swap is that we all get to make a new friend in the blogging community, and we bless them with a scarf and an ornament right in time for the holidays. these are two of my favorite things, you know, scarves and ornaments, and combining them into a gift swap is all kinds of lovely.
the details: $20 budget. this means that you everyone should spend right around $20 for the total of your scarf and ornament's cost together. if you are making your scarf and/or your ornament, please take into consideration the cost of materials you purchased to make your items and how much you might have sold them for. get creative! if you can sew, knit, crochet, and all that good stuff, make a scarf for your new friend. can't do that (like me)?
here are some suggestions for scarves under $20:
H&M has a wide selection of beautiful scarves at really great prices, so does Target... and here are some shops on etsy that i found that sell scarves for $15 and under:
pinterest
is filled with ideas for handmade ornaments. check 'em out! i love handmade.
the scafament swap is open to US residents only.
if you would like to participate please email me by this friday, november 4th at midnight to be put on the list
. by monday, november 7th, you will get an email with your scarfament swap partner's name and information. all partners will be randomly assigned. i will probably put all your names in a hat and have my husband pick them out two by two, like i did with
the headband swap
.
please include in your email:
once your partners are assigned it's up to you how much you want to share with each other about specifics of what you like, i personally like to be surprised. all scarfament swap packages should arrive at your partner's house on or before december 1st…one month from today.
let's get swapping!
email me today!
takeheartblog at hotmail dot com