if you really wanna get buck wild...
oh, i'm sorry. i don't know why that comes to my head when i type hey ladies. who sings that anyway? lil' kim? that's lil, not little. ok? i'm sure that is not even close to who really sings it but it brings me back to 12th grade. ooh, 12th grade.
…
ok, back to my post.
HEY LADIES… here are some things that i would suggest you do not say or do to a pregnant woman. especially cause you're a lady, too. right? right.
while meandering through michael's with my girlfriend the other night, a woman, about my mom's age, stares at me, and by me i clearly mean my stomach, and begins to foam at the mouth. she didn't really foam at the mouth but she might as well have. her eyes bulge out of her head and she exclaims, "WHEN ARE YOU DUUUUUE?!?!??!" as if she is so convinced that i am going to give birth that very second and can see this child's head coming out of me. i smile and say "oh, not til february." her response is, "OH MY GAWD. i'm so sorry." hmmm… i ponder to myself for a second. what are you sorry for? saying that? or that i'm not due for another couple months? both, perhaps?
well, instead of offering up my usually shrug, smile, and it's okay, something came over me. maybe it was my friend who was starring at me, so lovingly, wondering if it hurt my feelings. which, by the way, it didn't. i love being pregnant, i feel great, and it actually doesn't bother me personally at all. this is my third time walking the i'm-pregnant-and-going-to-give-birth-to-an-extremly-large-baby road. i've heard it all, my friends. i am asked if i'm having multiples on a weekly basis. no biggie. to me, there is really nothing more beautiful than a pregnant woman, nothing more beautiful than seeing a little life grow. now, hear me out, when i look at myself in the mirror naked and pregnant (or naked and not pregnant... let's be honest) i don't say to myself, wow look at that beauty. sagging boobs and a stretch marked stomach don't usually ooze those thoughts out of me. but when i see another woman carrying a baby, i beam. it is beauty. is it not?
so, anyways. i had just recently had a conversation with another friend, who is also with child, and these comments really do get to her, and really do hurt her feelings. she takes them to heart and genuinely gets upset and offended when people make comments or ask questions like this. and i get it. oh, do i get it. we are carrying babies. we are not sitting around gaining weight in our stomach for fun. there is life inside us.
so, i look at the woman and say something along the lines of, "excuse me ma'am? can i tell you something quick? i have to tell you that some women are really offended by comments and questions like this. i'm carrying a baby, and i feel good thankfully, but many, many woman do not feel good. they feel heavy, and uncomfortable, and not themselves. they don't want to be reminded that they have a long time left to go in their pregnancy while someone thinks they look like they are going to give birth this very minute. and, especially as another woman, it is really important to respect that and be sensitive to a mother's feelings."
she starred at me.
and then i did this: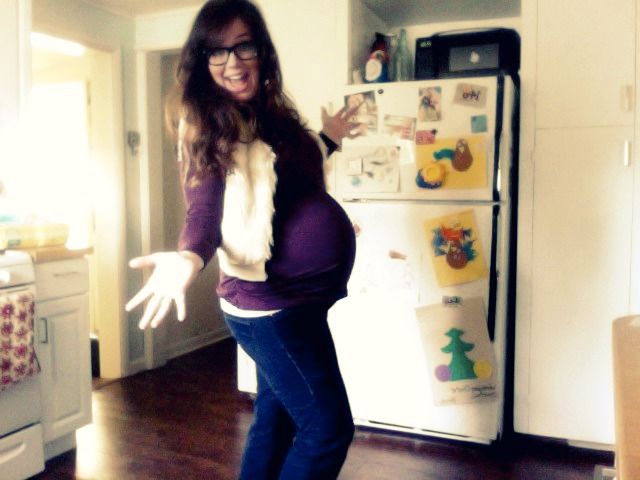 just kidding. i didn't do that.
but i should have.
because it felt like, at that very moment, in the scrapbook paper aisle at michael's, that i said what i have wanted to say for quite some time.
she apologized. and i? i was a little proud of myself and a little taken aback at my own response.
so… hear me out, ladies…
if you are saying and asking these things to pregnant women, i still love you and i shall forgive you. but, let's change it for the future, mmkay? starting now. and spread the word.
also… if you are on getting on the no rude comments to a pregnant woman train, you are also getting on the following two trains as well: the do not ask a woman when she is due if you don't know if she is pregnant or not train and the i will not rub any pregnant stranger's stomach…no matter how tempted i am train.
on behalf of gestating women everywhere…. thank you. thank you very much.