on saturday my mom, sister, the boys and i baked our socks off. our socks actually did come off because they were so covered in sprinkles, that when i walked, all i felt were the white nonpareils sticking into my heels. it's a lovely feeling, really. do you know it too?
my mom, the baker extrodinare, has some signature christmas cookies she makes every year. two of my favorites are pecan tarts and russian tea cakes. i'd give you the recipes but then i'd have to kill you. we make these every year, but this saturday was a little different. we reserved it for trying some new recipes out, some cookie recipes that had been calling my name, loud and clear, from
pinterest
.
two of these newbies (#1&2) are staying forever... in my heart and in mah belly cause i eat a few every day.
prepare yourselves to fall.in.love. and to taste.christmas.
the period was needed between both of those phrases. thankyouverymuch.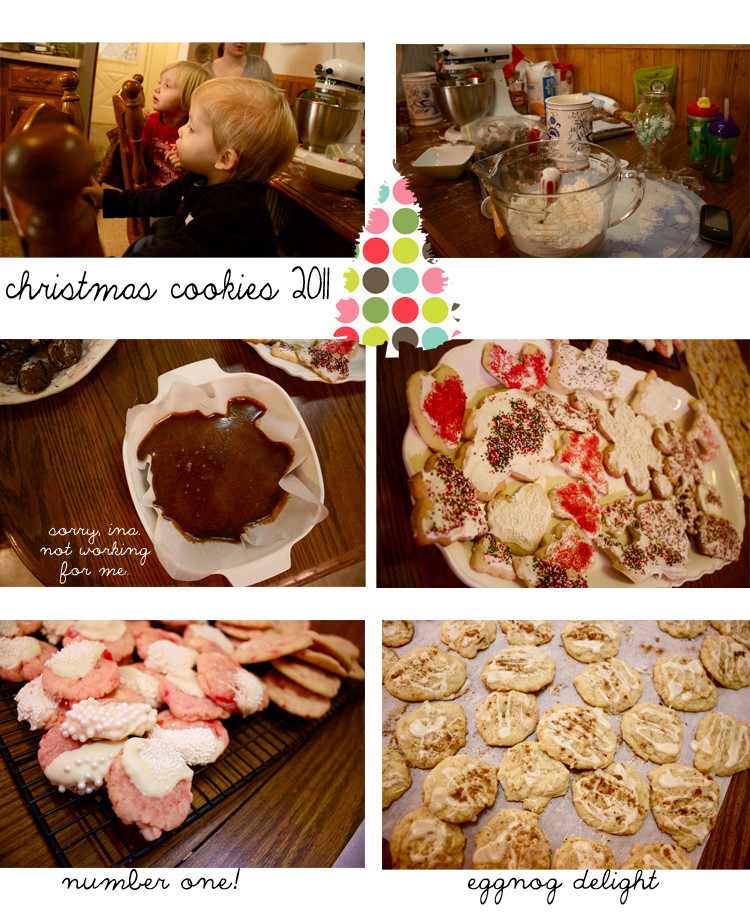 number one:
favorite-new-recipe-that-is-now-a-staple-in-our-christmas-baking-extravaganza...
white chocolate cherry shortbread cookies
. i searched "best christmas cookies" on pinterest and these babies kept coming up. now i know why. they are so good and unique i don't know how to describe them. they have a hint of almond from the extract, which is really convenient for me because my husband is allergic almonds. #moreforme. the cherries! the white chocolate! seriously this combination is heavenly. heavenly, i tell you. i actually like the cookie so much that i just want the tiniest bit of the edge to be dipped in the white chocolate…as to not take away from the goodness. make these now, thank me later.
number two, which is only number two by, like, a .5 deduction from number one, are
eggnog cookies
. these are the softest cookies that will ever melt in your mouth. ahmazing. we used cinnamon eggnog cause we love cinnamon that much. don't forget to sprinkle with nutmeg before you bake and never, ever forget the eggnog glaze with a sprinkling of cinnamon. feed me.
number three: chocolate crinkle cookies, best served with a cold glass of milk. i don't have the exact link for the recipe i followed, but just google it and you will find 5,609 similar recipes. these are for the chocolate lover, rich and cocoa-y.
number four:
peppermint sugar cookies
. mmhmm… bursting with peppermint, and chewy, like every good sugar cookie should be. i want to dip these in hot chocolate. i don't know why i haven't done that already. we also made traditional sugar cookies that the boys decorated. their dentist hates me already.
and i made
barefoot contessa salted caramels
, like the good candy maker that i am. but it was entirely too sweet, and too salty, to eat. sad day, my friends, sad day.
in keeping with becoming betty crocker herself, i made
these
with good intentions of bringing them to mops last friday, and then my husband and i ate one, and we decided against that idea. they are delicious, so rich, and so huge. we will be enjoying them slowly over this next week.
now you have got yourselves some baking to do! get to it.
ps: happy 27th birthday to my honeylover. i have got a surprise for you tonight, mister. but don't get too excited… i am 7 months pregnant.