awesome thing #1:
sleeping in a king size bed all last week.
i like to sprawl and i had myself a lot of sprawl space. yeehaw!
awesome thing #2:
THIS SHOWER.
it may not seem so big and fabulous to some of you but, coming from a girl who's bathroom itself is the size of that shower, it is SO big and fabulous. take me back, baby. i love you, shower.
awesome thing #3:
know what the best part of this shower is? THIS THING.
does anyone know what this is called? your foot rests perfectly on it to shave your legs and there is a place designed just for your razor. who invented this thing and why aren't they at my house right now installing one in my little tiny dirty shower? please. if it is possible to have one of these in our shower then it will be what i ask of my hubs for my 25th birthday. that and nothing else.
awesome thing #4:
how did i not know about this until a few days ago?
i will be using this 6 times daily. i don't know if a better website exists.
awesome thing #5:
my hoop art made for me by sweet
ashlee
for
heather
's hoop art swap. i love it, thank you so much ashlee! it was so fun to come home from vacation with little surprises waiting for me.
awesome thing #6:
my baby boy falling asleep in my arms on the plane ride home sunday.
oooh, oh the sweetest thing.
awesome thing #7:
my other surprise waiting for me when i got home! my new painting from my dear friend,
casey
, in all my favorite colors. i lalalove it. you are so good to me.
awesome thing #8:
cranberry juice cocktail
for real. every time i drink it it takes me back to the hospital and sipping cranberry juice while in labor and then sending my husband to retrieve gallons of it postpartum. i drank some on the airplane and i loved it so very much.
awesome thing #9:
doing this. all.the.time.
or at least during.nap.time.
awesome thing #10:
my other baby boy.
my God is so big, so strong and so mighty, there's nothing my God cannot do.
*******************************************************
and the not so awesome thing of the day is: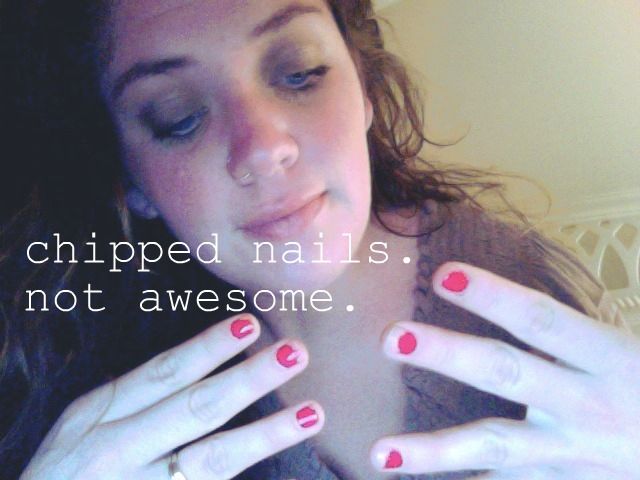 this happens to me EVERY time i get a manicure...which has only been like five times in my whole life. but, for some reason, when i went to get to my pedicure before vacation i got a manicure as well. and this is what it looked like the next morning. never again.
are you totally sick of the word awesome yet?
have an awesome day, dude.