That old adage, "opposites attract" couldn't be more true for us. It was the typical "good girl falls in love with the bad boy persona". Only the bad boy was now a born again, Jesus loving, Bible preaching young man with wild hair, tattoos and gages in his ears. And I thought getting a second piercing in my earlobes was living on the wild side. He turned my world upside down.
When I was in Junior High I made a decision to never date. I told God I would wait for the man He wanted me to marry. I desperately wanted Him to write my love story. I believed with all my heart that God knew me better than I knew myself and I was more than okay with letting Him pick out my husband. It wasn't always easy to stand by that decision, but because I did, my relationship with God soared to new heights. He became everything to me. In Isaiah 54:5 it says "your maker is your husband" and God romanced me in such sweetly personal ways. I was completely and undividedly His.
The summer of my seventeenth year, I met Joel. And I was not looking for a husband. He was twenty years old and had just moved to Nebraska from Louisiana for a short time. I remember someone telling me about him and that he was coming to visit our Christian drama group. Something in me started stirring and I couldn't shake the feeling that whoever this guy was, he would come to mean something to me. When I met him, we had this instant connection, an immediate friendship. I'll never forget that first conversation, my shy reservation and his enigmatic smile. I remember thinking "he has crazy hair, but his eyes are such a remarkable blue" and I left knowing we would become friends. But I wasn't looking for anything more than that. After all, God was going to have to show me who I was going to marry. And that person, bless his soul, would have to be persistent, because I had mastered the art of holding guys at arm's length.
Joel tells the story much differently. He claims that for him, it was love at first sight. He left that meeting thinking to himself, "I have just met the girl I want to marry." He went to bed that night planning to pursue me. He had almost drifted to sleep when he heard the audible voice of God tell him to get out of bed and on his knees. He remembers his eyes flew open and he hit the floor with a "Yes, Sir" on his lips. He waited for God's response and God told him to wait to pursue me. He quickly nodded "Yes, Sir" because what do you say when God speaks to you like that? And just as abruptly as it had begun, the conversation ended. It marked the beginning of a gradual and beautiful friendship.
The more I got to know this man who loved Jesus and lived with absolute passion, the more my heart began to awaken to the possibility of love. I was irresistibly drawn to him and I couldn't explain the attraction I felt because I had never felt this way before. The walls I had constructed to protect my heart started to crumble. I finally realized I was in love with a man that I wanted to spend the rest of my life serving God with. And I saw God's hand prints on it all.
Our Engagement 2002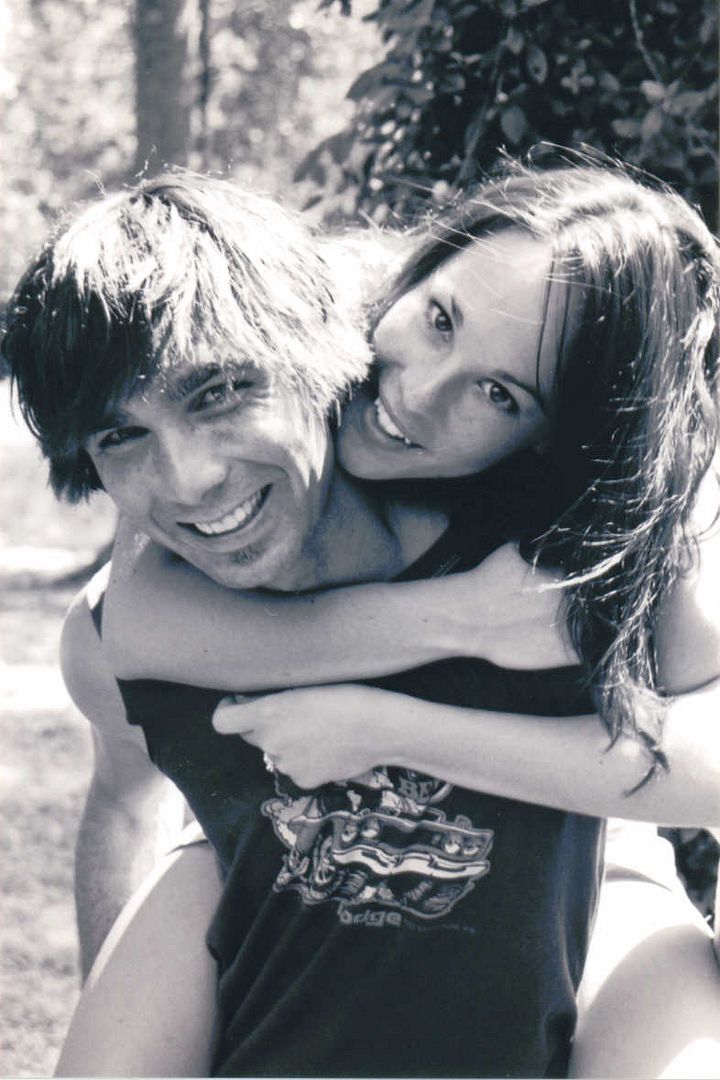 How I wish I could write that we got married right away. But we live in a culture that frowns on that. Me, eighteen and just graduated from high school. Him, only twenty-one with no college degree yet. We wanted to be married. But we were told to finish college first. I was a bright young woman with high test scores and several scholarships, I was advised not to waste that on marriage so young. And I've always done the right thing, was obedient in everything. But I didn't count on the fact that once love is awakened, it's impossible to slow it down. We learned that the hard way. The painfully hard way. I attended two years at a University in Nebraska while he attended a University in Louisiana. Thousands of miles apart. He promised to wait for me. Fast forward a lot of testing, opposition, struggle, failure and redemption and we finally abandoned the flawed "American Dream" and got married when I was twenty and he was twenty-three.
Our marriage has been a whirlwind of love and grace and fierce devotion. We've walked through losing homes, losing jobs, and losing a son. We've gained more faith, deeper respect for each other, and a strong bond of shared dreams. Now, side by side serving in the ministry of God's Kingdom as youth pastors, we've learned how to look towards the future and laugh at the days to come. Knowing God's hand prints are in it all.