hi, i'm currently letting my baby chew on my jewelry so i can bloggityblog.
i'm having much better days since
my meltdown
. thankfully.
we've all been sleeping better, we've all been sighing deeper.
sundays are our family day. we started to rake the massive amount of leaves our two maples dropped us and quickly realized it was going to be a long afternoon. thankfully, our neighbor friend let us borrow his leaf blower. what a wonderful creation. the boys were quite entertained by it as well. double whammy.
and because he lives in a state of exhaustion, he crawls his way to anything soft (blankets, pillows, my shirt, this chair) lays down, cuddles up with him thumb and makes a mumumum sound while sucking. i love it.
every time my sisters see one of the boys they ask me what is he wearing? danielle, seriously? clearly dressing my kids in matching clothes nicely is not a priority for me. what's wrong with stripped jammie pants and a dirty camo sweatshirt afterall?
brody has been making caleb and i laugh so hard lately. the singsong tones he has come to accquire in these past few weeks kill me.
and i think i have may be guilty of feeding my kid too much sugar lately. i can't help it with halloween just around the corner. somehow peanut butter cups and orange sprinkle cookies keep ending up in my house. mom, is that you? at least he eats them so eloquently.
got brody his favorite "present" of all this week. it only takes a ten dollar craigslist basketball hoop to bring him sheer happiness. and i'll let the picture speak for themselves on my boy's serious skillz: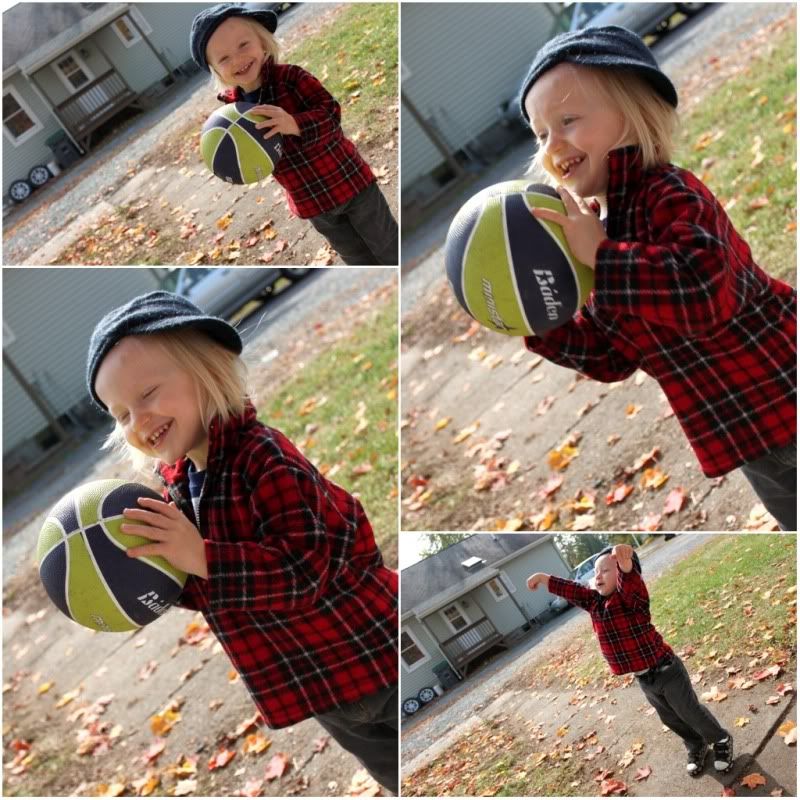 perfect form! making his auntie rin proud.
on another note, i have two problems:
it's been super rainy and warm here in upstate new york the past few days and an infestion of these bugs is taking over our little house. someone help!
problem two: foster can't walk and becomes disgustingly dirty in a wet and mushy yard. he will only stay constrained in his stroller for a matter of minutes and then it's go get em in the dirt, leaves and mud. i have chosen to accept this but, does anyone have any ideas of have to better entertain a child strapped in a stroller? i feel i've tried all i can think of.
oh, and guess what. i have a WONDERFUL announcement to make tomorrow.