my sister had us for dinner and made this.
yum. she eats
this way
, which i would never, ever, ever eat like. i keep tormenting her that she will never be able to eat mom's chocolate chip cookies again. sisters
are for tormenting each other after all, aren't they. but, she
has
won me over on some to-die-for vegan meals.
without further ado....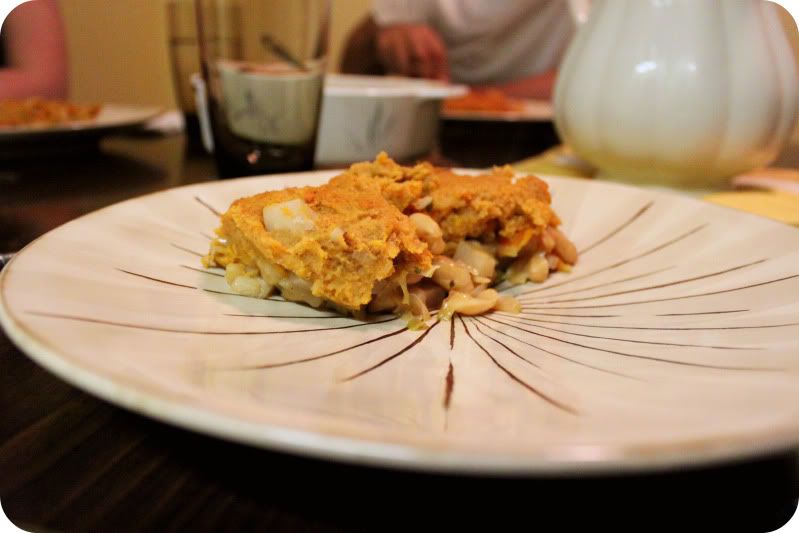 sweet potato topping
* 1 medium sweet potato, peeled and diced (1/4 lb.)
* 1/4 cup plain soymilk
* 1 tbs. earth balance (or butter)
* 1/4 tsp. ground cinnamon
* 1/4 tsp. ground nutmeg
filling

* 1 1/2 tsp. vegetable oil
* 1 medium onion, chopped (1 cup)
* 1 leek, white part thinly sliced (1 cup)
* 2 turnips, diced (1 cup)
* 1 carrot, diced (1/2 cup)
* 3 sprigs fresh thyme
* 1 sprig fresh rosemary, chopped (2 tsp.)
* 1/4 cup white wine or water
* 1 15-oz. can cannellini beans, rinsed and drained
* 1 cup low-sodium vegetable broth

directions

1. to make sweet potato topping: bring large pot of water to a boil. add sweet potato, cover, and boil 10 minutes, or until tender. drain, and return to pot. mash with soy milk, earth Balance, cinnamon, and nutmeg; season with salt and pepper, if desired. set aside.

2. to make filling: heat oil in large skillet over medium heat. add onion and leek, and sauté 5 to 6 minutes, or until leek is soft. add turnips, carrot, thyme, and rosemary; cook 2 to 3 minutes more, or until carrot begins to soften.

3. add wine, and cook 30 seconds to deglaze pan. stir in beans and broth. cover, and simmer 10 minutes, or until carrots and turnips are soft. season with salt and pepper, if desired.

4. remove thyme sprigs from filling, and discard. pour filling into 2- or 3-qt. casserole dish. spread sweet potato topping over filling.

5. place casserole on baking pan. bake 30 minutes, or until filling bubbles. let stand 5 minutes before serving.
(or 3 if you are part of our family)