i made another one of
those
trips to target this weekend. you know, the ones without the children, where you can get lost in musical greeting cards, and you keep circling the clearance baby items (cause you really can't kick the mom thing even if the kids aren't there) and keep coming back to that one dress that's not on sale but would be so perfect for a summer dinner date with your hubby? well... i got that dress, and a couple other things.
the tags are off the two pairs of sandals and the purse because i used them immediately. can you blame me? actually, my mom wore the yellow ones and i wore the jewel encrusted
(what?)
ones. we both wore than to the same event which took place outside and that's why they appear a tad dirty. $3.24. seriously, that was my magic number. the nursing tank top was my number one find of the night. nursing moms, rejoice! and get to target right now! $4.24 from $16.99, and they are SO needed!
sadly
, i am done nursing foster man. but i do have a darling sister-in-law who just so happens to be having a precious baby boy in september. taryn, if you're reading, the tank top will be sent sooner than later ;)
some super cute shoes for my boys. the bottom two pairs will fit foster this fall/winter. the navy blue sneaks will probably fit brody next spring or summer. i do have to admit i paid full price for the same pair, only in tan, this spring. the child literally had no shoes so i had to. the shoes did get ruined
this
day -- i guess that was my punishment for paying full price. the necklace i love. again, the tags are off because it was worn immediately. i need to go back and get some earrings but i am waiting until they go down in price some more. $5.47 is still a tad high for me.
the helicopter blanket was my most expensive purchase, and at $6.98 i'd say i was doing pretty well. i see it every time i am
there
and can't stop thinking about it
(something is very wrong with me)
. anything dwell studio just sucks me in. i really love the colors and even though we are up to our ears in baby blankets, it could always be used as a gift or a going home blanket whenever we have baby #3, right? right. the onesie and two hats all started with a "1" so there wasn't even any thinking. my boys
really
do not need another article of clothing with camo print on it but they
do
have to uphold the burkleo name, so bring it on.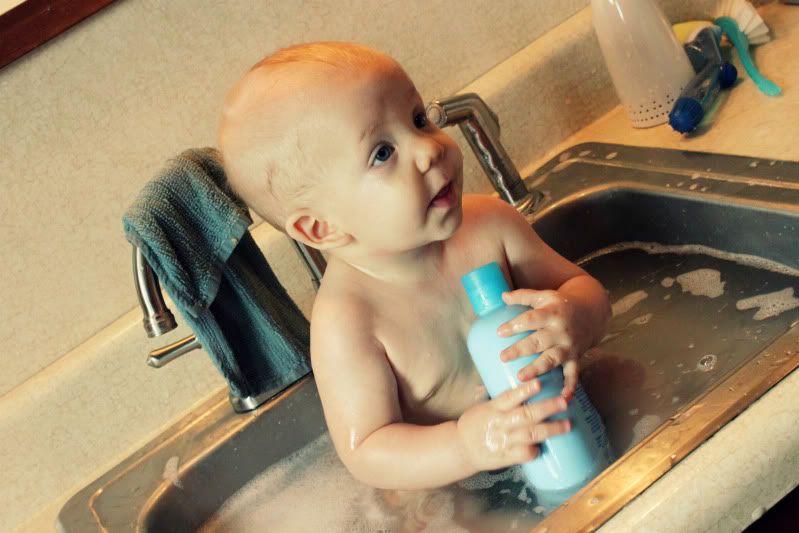 who can resist a baby in the kitchen sink?