it was pirate day at a local library. i love to get my boys dressed up and will jump on any opportunity i get to make them look even more adorable than they already are. i know that my days of doing this will come to an end in a short while so i'm taking advantage of it now. brody was quite proud of his outfit and we even stopped by to see daddy at work to show them off.
so, anyways. pirate day.....can you say chaos? i drove around looking for a parking spot for 15 minutes. finally found one and then remembered i only had the single stroller, so in went the exhausted
(exhausted is the theme of his life currently, just incase you haven't caught on to that)
foster and lucky for me i could plop brody into my friend's double stroller.
we happily stroll on over to the library as happily as you can stroll with five kiddos in tow. the library is PACKED. hardly room to even maneuver all the children around. i was most excited to have brody hear the live music but it was pretty much over by the time we got there, not that he would have been able to hear it over all the screaming kids. the crafts they were doing were actually super cute but brody was not nearly old enough to know what in the world to do. so we basically got dressed up like a pirate to do some puzzles and "tuck in" a stuffed duck in the dramatic play area over and over again. he had a blast doing it at least :) foster cried of sleep depravation the majority of the time until i could finally get him to sleep with the constant movement of the stroller. at all times one of us mama's was pushing the stroller back and forth and the child still only slept 20 minutes.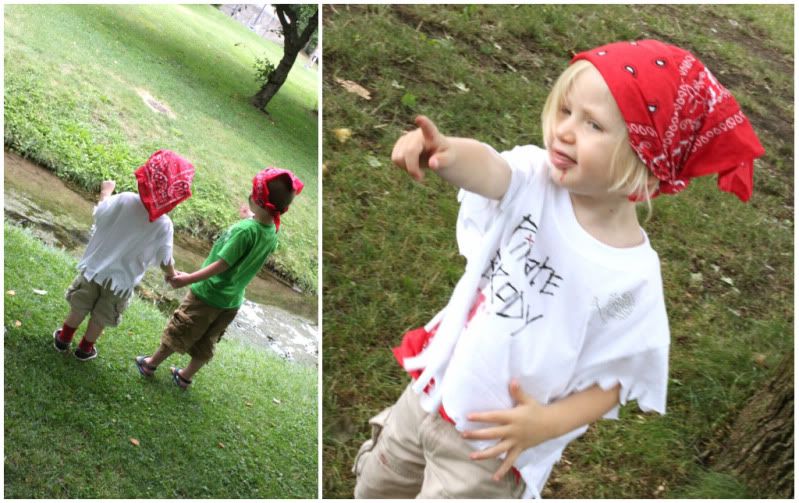 some pesky four year old (i'm guessing) boy kept coming at foster with a toy alligator, having it bite his legs. i know they are to-die-for legs with their chubby rolls and all that but come on? where is your parent? and why are they letting you go around biting at baby's legs with an alligator? wouldn't you stop your child from doing this? i'm confused. i had to pick foster up out the stroller because the kid wouldn't stop and was seriously chomping down on his legs with the alligator's mouth. i totally understand that your kid(s) get out of your sight and are misbehaving but when you see them, stop them! more random children were swatting at my friend's sleeping baby. these one had parents right there. can you stop your child from doing this? don't you know we don't want the baby to be hit or woken up? don't stand there saying, "oh, honey stop the baby's trying to sleep." ummm, they aren't stopping so can you pick them up, scold them, do something? still confused.
sorry fost, you didn't get your picture taken much today. you were what we like to call MISERABLE.
don't worry, aaron. i felt the same way about pirate day.
this picture cracks me up. i especially love how brody looks like a sad puppy and appers to have a bloody shirt. no worries, just jelly. brendan's holding brody's hand to keep him from escaping, connor is rocking the off the shoulder look and matthew looks like a true pirate, arrrggg!
we ended our morning like every morning should be ended.
with a cheerful carousel ride.