my sisters and i went
here
for dinner tonight. so so good. i would give it an 8.9 out of 10. close to perfect, i know.
i was looking for a great place to relax, chat and stay for a while and we found the perfect place. not to mention the food was delish. my sisters think i'm crazy and that i talk like i'm a restaurant critic or i'm on the food network or something. they could be right, but i'm not ashamed to claim it. i love to know what people think of their experience, food, service, atmosphere etc, and why they think they way they do. i ask this about everything, not just about food...baby names for instance, but that's a whoooole other story. anyways, food in this case. here are my feelings on our time at sunset cafe.
sunset cafe sounds kinda cheesy to me. no worries, cheesy it is not.
i loved the atmosphere. front street in downtown ballston spa is the prefect little quaint street and i loved the uniqueness of a tiny entrance into a purpled ceilinged, orange walled restaurant. okay, there was a little downside that i just remembered. we did wander like nomads for a hot second because we didn't know where to go when we first walked in. there was no hostess so we were unsure if we should wait for someone or if we should sit ourselves. actually, i'm still not sure what we were supposed to do but we saw a waitress (the one and only waitress, might i add) and she brought us to a window table, love. we got to observe some funky old car that sounded like a thunderstorm, an older couple starring longingly into each other eyes and men with dreads that my sister said were rastafarianism followers, or something like that.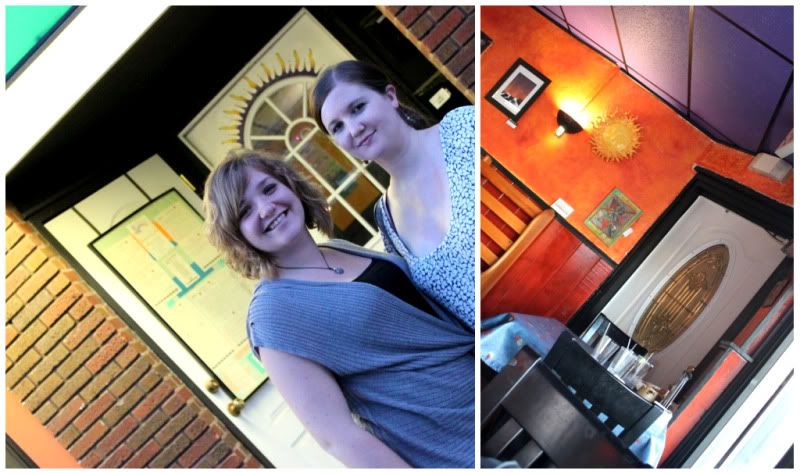 we started with an appetizer of nachos with beans, chives, cheese and tomatoes. yum! so good. we waited quite a while because, well, like i said, there was only one waitress. she did mention there are usually two and that they were particularly busy for a monday but i give the lady credit. she did a good job balancing it all and kept a smile on her face. we waited a long time, i don't know how long. but it was long, my sisters were famished and annoyed but i was too busy laughing at everything they said to worry about the food coming. you see, my sisters always make fun of me which seriously makes me laugh harder than anything else. sometimes i think they think i'm joking about something and i have to repeat "i'm being serious" fifty times. that happened tonight.
after the spectacular nacho appetizer we waited another long period of time with continuous spouts of laughter on my part. got my chicken pizzata salad and it was worth the wait. i devoured fresh spinach and lettuce tossed ever so perfectly in a balsamic vinaigerette and proclaimed, "oh the balsamic!" to which my sister said, "you're not being videotaped, danielle". i mean, seriously, can a girl love her food or what?
we debated over dessert since we were all pretty stuffed but couldn't pass up the fried ice cream, especially since none of us ever had it before. it was worth the $3.99 and then some.
i only deducted points for the long wait time and the lack of waitstaff.
sunset cafe
, i can't wait until we meet again.